About Impact Healing
Family-Owned and Patient-Centered Wellness Clinic in Denver, CO
Impact Healing was founded in 2012 out of a passion for helping people restore health and get their lives back. Our clients discover the powerful healing benefits of our natural, holistic care, often after trying many things with little or no success. We understand that the path to wellness isn't always straightforward, and it frequently requires a deeper level of care and attention.

Our dynamic mother-daughter duo is committed to your recovery and brings decades of expert training and intuitive wisdom to your care. Our family-owned wellness clinic treats the body as a whole and not solely your ailments. With the help of acupuncture, Traditional Chinese herbal medicine, functional medicine, cupping, and nutritional therapy, we can alleviate your discomfort, improve energy, and give you the tools to develop a positive, healthy lifestyle.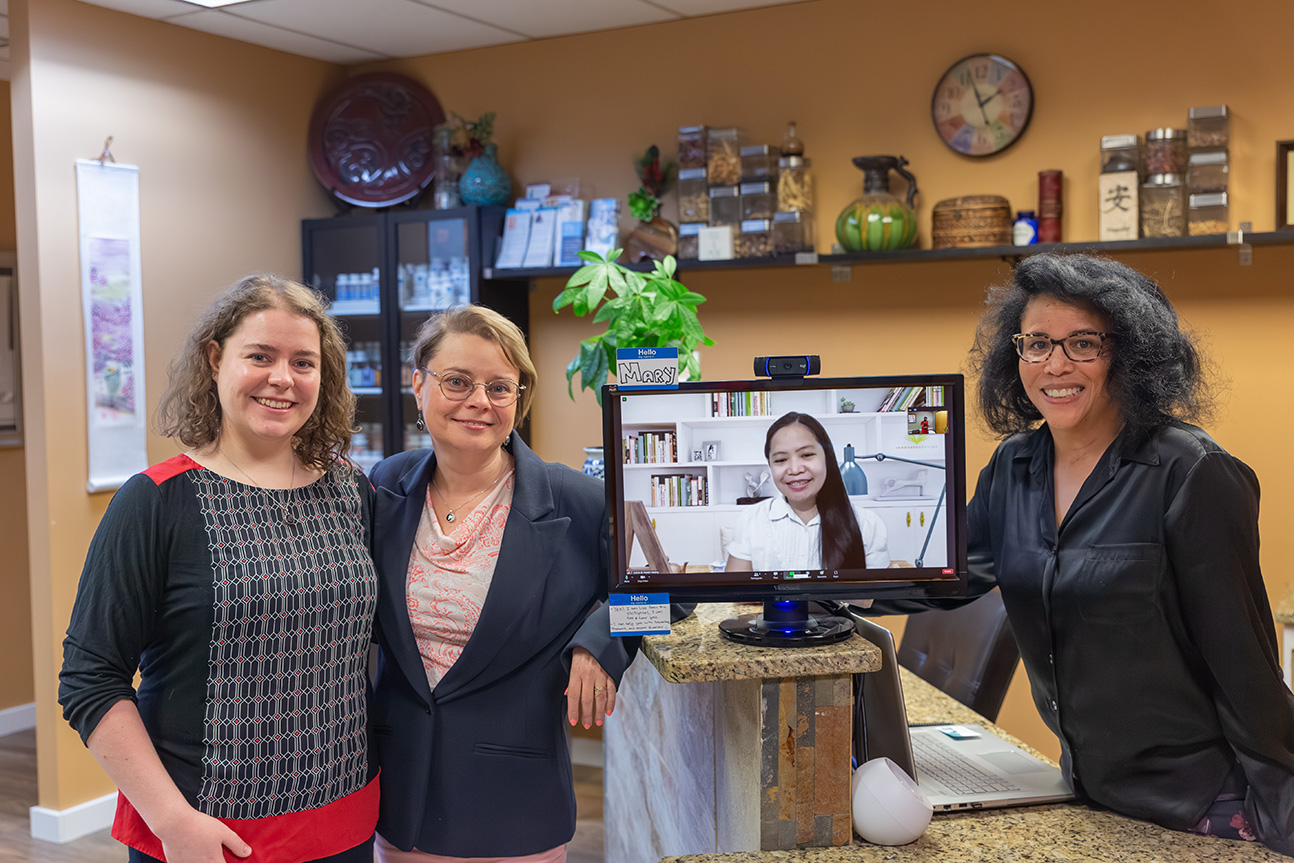 Meet the Team
Impact Healing is a family-owned practice. We love helping clients who are ready to change their lives for the better and pride ourselves on providing thoughtful coaching and personalized support along the way.
Sasha May

M.S., L.Ac, Founder

Medicine has always been part of my life. My mother, a gifted Western medical doctor, and my father, a brilliant scientist with a Ph.D. in Physics, always encouraged me to follow my dream to practice medicine. While I began that journey in my hometown of Odessa, Ukraine, I had to put it on hold when we moved to the United States.

When my daughter was five years old, she was diagnosed with a walking disorder. Traditional western pediatricians and neurologists couldn't provide any tangible long-term solutions, so I started searching for answers on my own. This led me to discovering Oriental Medicine and a whole new philosophy of a holistic approach to human health. As my daughter's condition improved with the help of acupuncture and herbal medicine, my life and my understanding of medicine were fundamentally transformed.

I enrolled in the Colorado School of Traditional Chinese Medicine and became a licensed practitioner of Oriental Medicine. Since then, I have never looked back. To be able to finally practice healing is a blessing and great responsibility, and I am honored to do it with all my heart, body, and soul.

By having a multidimensional East/West practice, and working closely with Dr. Elena Chebanova, M.D. (a respected physician with 30 years of clinical experience), we are able to diagnose our patients from two different perspectives, and thus provide the best treatment options and deliver desired results faster than what is possible via a single medical approach. Our team provides "outside the box" thinking and will get to the root of your health problems, while providing minimally invasive solutions to a wide range of complicated medical issues.

Michelle May  

M.Ac, Acupuncturist

My first introduction to acupuncture was at the age of seven. At that time, I had seen every podiatrist and physical therapist in the front range area for my severe calf pain caused by my toe walking. Each visit, I was recommended surgery to lengthen a portion of the Achilles tendon which has its own set of risks and was the least favorable option. My mother was recommended acupuncture as a sort of last resort option (what else did we have to lose?) and to our surprise, within five to ten treatments, my leg pain greatly subsided, and I was walking more flat-footed than ever before. The treatments brought back functionality back to my legs, feet, toes, and daily life with no more midnight disturbances from searing leg pain. Being so young, I didn't have as much of an appreciation for acupuncture as I do now.

During the earlier days of the clinic, I started out as the receptionist and worked my way towards office manager for several years. I enjoyed seeing how patients would leave so much differently than how they came in, and watching my mother's journey in opening the clinic and treating a variety of illnesses inspired me to follow suit.

In December of 2021, I graduated with my master's degree in Acupuncture from the Colorado School of Traditional Chinese Medicine in Denver. In March of 2022, I traveled to the countryside of Nepal to practice primary care & acupuncture for two months with the Acupuncture Relief Project.

When I am not in the clinic, you can find me on road trips traveling with my partner and dog.

Wendy Bledsoe

Patient Coordinator

I've loved science, medicine and nature since I was a child. Growing up in Germany, I played in the Palatinate Forest acting as the human guardian over the trees and animals, bandaging broken tree limbs or helping trails of vigilant ants reach their destination by moving debris from their path.

It was no surprise when I went into medicine. I worked as a Mammographer, Ultrasound, and X-ray technologist for over thirty years. In addition, I've had the honor of working in medical research with some amazing visionaries around the world to develop products that detect and treat cancer in various forms. Medicine has helped me appreciate the fragility and resilience of the human body.

In the summer of 2022, I came to Impact Healing and Wellness as a patient – a very sick patient, suffering from severe gastrointestinal issues and a disabling vestibular disorder that disrupts every aspect of my life. After working with Sasha and Michelle for three months, my results were so impressive, I asked them for a job, and they hired me.

As the patient coordinator at Impact Healing, I enjoy interacting with everyone that comes through the door. I truly believe in this practice and believe that our patients are receiving the best care possible. It makes me happy when I hear their stories, see how far they've come and how much better they feel.

I'm truly blessed to be part of a such a magnificent team of caring, passionate and knowledgeable team members whose values and goals line up with mine.

In my spare time, I am a freelance writer, and enjoy spending time with my grandchildren, hiking, dancing, and watching Netflix.

Mary Grace Catalan

Front Desk / Administrative Assistant

My name is Mary Grace Catalan, and I am the Virtual Administrative Assistant for Impact Healing. Most known for my optimistic charm and smile, I assist Sasha & Michelle in the day-to-day operations of the clinic from my remote location in the Philippines. My role includes taking inquiries, phone calls, scheduling, and greeting patients as they check in for their treatments.

When I am not working, I spend my time participating in various community service efforts in my hometown, including clean-up drives, blood drives, medical missions, and feeding programs. I believe in taking every opportunity to do good for everyone around me and to not harm either the doer or the benefactor. My husband, two sons, and I love to travel and play badminton, volleyball, table tennis and other outdoor games.

For me, the key to a successful office is mindfulness, and that belief influences all my patient interactions. Whether it's your first visit, or you've been working with Sasha and Michelle for a while, I look forward to seeing you in the clinic!
Conditions and Treatments
By integrating the best of functional, naturopathic, and Oriental medicine care, we can create customized healing plans uniquely tailored to you. Here are some of the most common conditions we treat:
Acute & Chronic Pain

Hormonal Imbalances

Thyroid and Autoimmunity

Fatigue, Sleep and Brain Fog

Mental Health

Neurological Disorders

Fertility and Miscarriage

Addiction

Skin Issues

Gut Health Disorders

Diabetes and Cardiovascular Health

Side Effects of Cancer Treatment